Mercedes-Benz has a solid gold reputation for producing luxurious vehicles and innovative technology. In fact, the latest Mercedes-Benz models come jam-packed with convenient amenities and intelligent technologies to keep you connected while on the move. Drivers near Minneapolis can enjoy these features and stay connected while on-the-go in several new Mercedes-Benz models for sale with Mercedes me connect.
Mercedes me connect is an intuitive smartphone app that bridges the gap between car and phone. This app provides drivers all the tools necessary to manage their Mercedes-Benz vehicle right from their smartphone device and provides more convenience, comfort, and connectivity features than ever imagined!
Enjoy a Wide Range of Services Through Mercedes Me Connect On Your Next Drive Near Minneapolis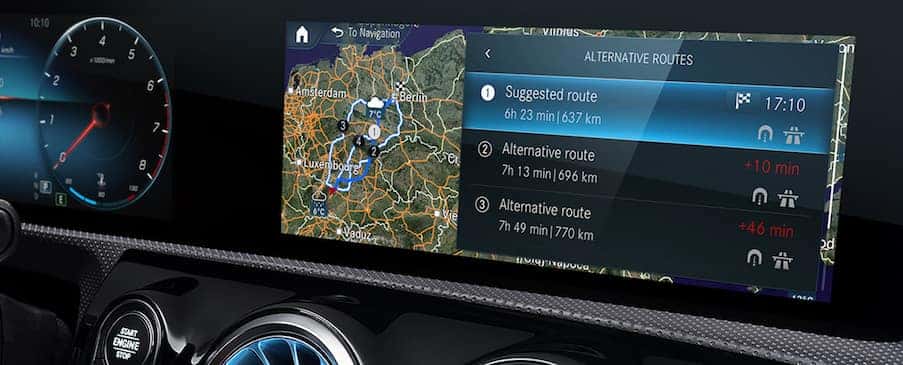 No matter if you're behind the wheel or out and about, Mercedes me connect helps you stay in sync with your vehicle. Mercedes-Benz drivers can take advantage of the newest generation of connectivity and convenient car services including remote access, assistance and support, concierge services, and entertainment.
Remote Access
Remote access through Mercedes me connect provides convenience with one touch. Easily jump-start your engine, lock or unlock doors, communicate with your Mercedes-Benz vehicle's NAV system, and view current vehicle data–all from your compatible smartphone device.
Assistance & Support
Enjoy enhanced peace of mind at every turn with Mercedes me connect assistance and support services. Drivers can accurately anticipate and schedule service for their luxury vehicle thanks to systems like maintenance management, telediagnostic, and remote vehicle diagnostics. Accident reporting and 24/7 emergency call services are also available to inspire confidence on every drive!
Concierge Services
Concierge Services through Mercedes me connect provide a broad spectrum of personalized services at the push of a button. Receive assistance with travel arrangements, reservations, ticket purchases, reminders, and so much more with your personal Concierge Specialist!
Entertainment
Looking to spice up your next drive around Minneapolis? The Mercedes me connect entertainment features in modern Mercedes-Benz vehicles from our Minneapolis area Mercedes-Benz dealer can make your experience on the road even more satisfying. Drivers can connect up to eight devices through the available in-car WiFi Hotspot and enjoy access to thousands of radio stations, podcasts, and playlists with TuneIn® Radio.
Are you ready to experience the next level of connectivity inside your Mercedes-Benz? Contact us at Morrie's Mercedes-Benz of St. Paul for more information and assistance activating* Mercedes me connect services in your compatible Mercedes-Benz vehicle.
*To become a Mercedes me connect user, you should own a model year 2019 or newer Mercedes-Benz vehicle. Most remote access services are complimentary for three years. We recommend downloading the Mercedes me connect app to use these features. Note: Select 2018 GLE and 2018 C-Class vehicles are also equipped with Mercedes me connect services. Check with your dealer for details.